That the popularity of the Microsoft Power Platform grew immensely in the past 2 years is indisputable. The statistics speak for themselves.
The statistics, limited to the UK as an example, underpin this observation. These statistics refer to permanent and contract job offerings where Power Platform skills are a main requirement.
I have to state that I'm NOT a statistician. Thus it won't be a coincidence if you have a different opinion based on these statistics.
The dip in job offers in 2020 is most likely attributable to the ravaging effects of the COVID-19 pandemic (in combination with the looming Brexit..?). But still, according to the stats there is a relative growth – although slower – compared to the year before. Also, you can see that the number of job offers is slowly starting to recover in 2021.
The current has changed
How the current has changed over 4 years' time! In 2017 it was a whole other story. It didn't matter if you were a Power Platform enthusiast looking for another assignment or if you were an organization in search of qualitative Power Platform resources. The results on any job board were rather scarce.
On the one hand it makes sense, as the Power Platform was fairly new (not taking into account the Dynamics 365 and BI components), and therefore not many were yet acquainted with the capabilities this platform had to offer. Believe it or not, but until 2 years ago some still viewed the platform as one only capable to produce "simple solutions" and only executable on a mobile phone…..
On the other hand visionaries, both inside and outside Microsoft foresaw the strategic importance the Power Platform and Low Code in general would play in the future. And it is this group of visionaries that ultimately pushed Low Code and more specifically the Power Platform to the forefront.
This trend in growing popularity was recently underpinned by a Gartner study. Rephrased the study states that by 2024 65% of all application development will entail Low Code development. And furthermore 66% of Enterprises will be using a minimum of four Low Code platforms.
I have to say that the part citing "a minimum of four Low Code platforms" deserves a certain nuance. If you check the latest Gartner quadrant, you'll see that Low Code Platforms such as Power Platform, Mendix and OutSystems are ranked by the same criteria as for example ServiceNow and Salesforce. In my opinion that's not correct. But that's for another post!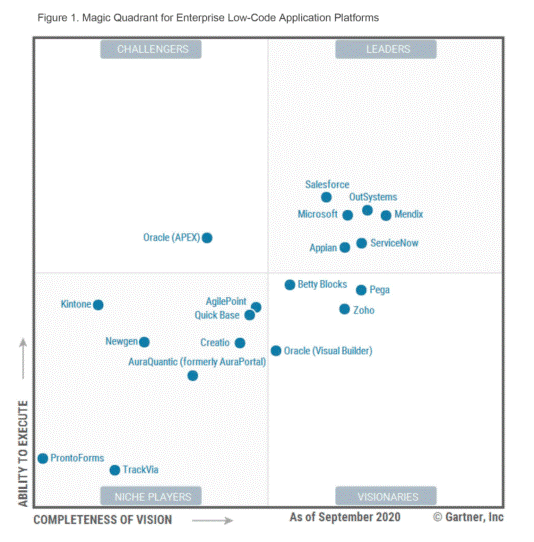 Getting back to topic of the Power Platform, it can be imagined that this platform will make an important contribution in achieving the forecasted market share (ref. percentages). This can be concluded if we take into account that many – if not – most enterprises are standardized on Microsoft's M365 Productivity suite via which they (unknowingly) get confronted with the capabilities of the Microsoft Power Platform. The most prolific example is Microsoft Teams. At the moment of this writing the leading enterprise collaboration tool, which is heavily being promoted with the tightly integrated Power Platform (ref. Dataverse for Teams) as "Teams as a Platform"; the platform to solve your daily business needs. If you ask me, Dataverse for Teams is a brilliant strategy to offer organizations of all kinds a glimpse of what the Power Platform has to offer, and therefore making them more willing to explore this further instead of going for a competitive platform. To read more on this topic I refer you to this amazing article written by Jukka Niiranen.
A Historic View on Power Platform Certification
Let's now take a step back and take a look at Power Platform certification development from a historical and personal perspective.
As the Power Platform started to grow in popularity, so did the need to find qualified personnel to support these initiatives.
So, it didn't take long before the first official Power Platform certification was born in 2017. Or was it 2018…? Anyway, it was a joint initiative by Microsoft and edX with the self-explanatory name "Microsoft DAT227x: Developing Business Applications with Microsoft PowerApps, CDS and Flow". I can still remember this day as yesterday when I showed it to my employer back in the day and he said: "not relevant". 😉
To achieve this certification it didn't require an exam as would normally be expected. It did however require you to finish several labs successfully, which would then be judged by a panel of ex-examinees. Although this wasn't as rigorous as a traditional exam, it did feel good to finally have some proof that you possess the basic skills to build and support Power Platform Solutions.
Even then the Power Platform had the characteristic of evolving continuously at an exponential rate. As these capabilities increased, Power Platform enthusiasts were expected to proof that they possess the necessary skills to support and sometimes even lead these initiatives. DAT227x didn't answer to the (constantly) changing requirements. Could it be assumed that this trend drove Microsoft to start working on what we know nowadays as the PL-series of exams..?
But while this curriculum was in development, unification of the platform was taking place: an increasing number of Dynamics 365 components and features such as the underlying XRM platform were being merged with the platform. Making it quite obvious to rename the MB-200 exam known as "Dynamics 365 Customer Engagement Core" to "Microsoft Power Platform + Dynamics 365 Core".
Although the MB-200 became the new DAT227x, there was still too much emphases on Dynamics 365 and less on the wider Power Platform. That all changed with the launch of the "PL-900: Power Platform Fundamentals" exam.
By this time we can state that PL-900 had definitely replaced DAT227x, whilst the MB-200 exam was more focused towards professional Power Platform/Dynamics 365 profiles (focused on Model-Driven Apps).
While all of this was taking place, thanks to the Low Code revolution, a new group of developers was starting to rise: Citizen Developers.
As Citizen Developers started to make way in a increasing number of organizations, there was a growing need to recognize these individuals. And what better way is there than an official certification? The "PL-100: Power Platform App Maker Associate" certification was born.
Eventually the MB-200 was retired and replaced by the "PL-200: Power Platform Functional Consultant Associate".
In July 2021 the MB-600, up to that point the "holy grail" of Power Platform certifications, was replaced by "PL-600: Power Platform Solutions Architect Expert".
MB-600: Dynamics 365 + Power Platform Solution Architect Expert
PL-600: Power Platform Solutions Architect Expert
Many have already written reviews of these exams, making it unnecessary for me to delve into the details. But I do want to summarize the general objective and audience of these exams. Thanks to powerwiki.net I don't have to formulate these myself.
PL-900 – Your job might be Power Platform, but the non-technical side. It's important for you to understand abstract ideas about what the platform can and should do.
PL-100 – Your job is not Power Platform. Maybe you're an accountant, maybe you work on the shop floor. You are an expert in what you do but you want to solve problems with the Power Platform. This is a good way to show IT that you can be trusted to make solutions in "their" environments, or maybe even transition to a full-time role of making Power Platform Solutions.
PL-200 – You make Power Platform Solutions with Low Code or No Code. This is your explicit job.
PL-400 – You extend Power Platform Solutions with code. You will do this better if you also understand what's needed from PL-200 above. This is your explicit job.
PL-600 – An advanced certification for architecting Power Platform Solutions. You need to know a bit of everything and be able to apply it to solve real problems. This is your explicit job.
Next: Power Platform Governance Certification?
What is the common thread in these certifications/exams? Building , Maintaining, Managing and Architecting solutions. But as already said multiple times and underpinned by prominent leaders and figures in the Power Platform community, these exams do not cover in detail a skillset which is becoming of utmost importance in this age of Fusion Development: Governance.
Open source frameworks such as the "Power Platform Adoption Framework" and the "Power BI Adoption Framework" have done a remarkable job to address this gap. Hats off to the creators and visionaries behind these initiatives, as in an early stage they recognized that Power Platform initiatives are doomed to fail without a thoughtful Governance Framework in place.

Governance and more specifically Power Platform Governance is a broad subject and encompasses multiple layers. Summarized 4 layers are identified within a Power Platform Governance Framework:
Program Governance
Organizational Governance
Platform Governance
Low Code Governance
The first two are loosely coupled with the Power Platform, as they are more tailored towards the "people" and "process" aspects of Governance. The latter two are specifically tailored towards Low Code and more specifically the Microsoft Power Platform.
It will take another article to dive into these 4 layers. But summarized these cover both the technical and non-technical aspects of governance in a Power Platform environment. For example:
How do you get upper management buy-in? Strategic positioning?
How do you drive adoption amongst employees?
Which Policies? When? And how to align them to community initiatives?
Role and place of a Center of Excellence? What tooling?
Application Lifecycle Management
Etc…
Microsoft Certified:
Power Platform
Governance Specialist…?
If such an certification/exam will appear, it will ultimately be a semi-technical one. Semi-technical because, as I already said, Governance is more about people and less about technology. Or as EY Kalman said it nicely: " It is about the mindset".
Hopefully with this article I've added some thoughts to the discussion.
p.s. I had a fun time writing this blog article, as this is the first in more than two years. It will take some time to get back on speed. But eventually I intend to make this a frequent endeavor.😉
Until the next time!
Clifton C. Lenne